Beauty day here today.No Fog!! Headed out to my indy's ta order a set of Metzler 888 Marathons.Hopein these will wear better than the Shinko that wore out in 5000 mi. this last tour.Also ordered a set of Barnett kevlar clutch plates.My present ones are startin to slip and tightened up they grab too fast off a dead stop.
 With business outa the way I headed north out onto the backroads.Just turnin onto the Old Is. Hwy. and I see a red shovel w/ black Bubble bags.Looks familiar;but, since he's already headed the way I just came from ,I continue north.About 5 mi. up the road I see a lone headlight in my mirror.What's the chances ?I pull into a country store lot and it follows me in.It's PainterRon off the US site.We bs a bit and he asks where I'm headed.Not much farther north to Oyster Bay rest stop for abit of beach scenery.
 Ride up together.Bs some more and he invites me over for a look see at the '48 pan chopper that he picked up.Head back to his place and check it out.Got a soft spot for anything '48.Good cases ,wishbone frame,stock lookin trans and extended stock style chrome springer.Paid $4800 and figures there's $8000+ in parts on it.
Gettin late and time to go.Chilly air is a comin!Takes me up to his studio first to pic a watercolour print from his inventory.So I picked this one.Like the old trucks.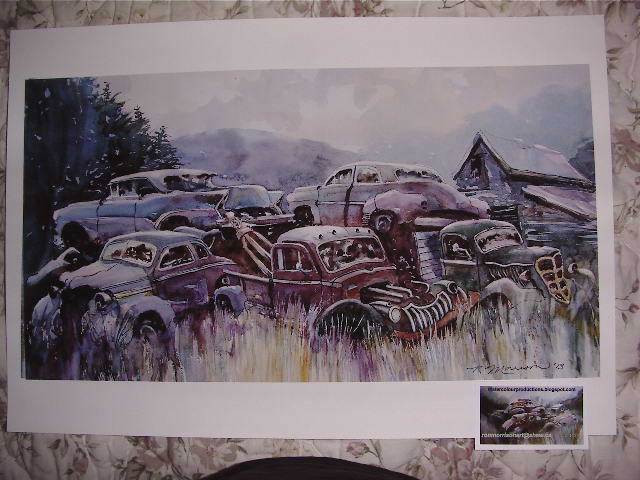 " />
Last edited by Dennman on Thu Oct 24, 2013 10:49 pm; edited 1 time in total (Reason for editing : add pic)

Dennman




Posts

: 1412


Join date

: 2012-10-31


Age

: 72


Location

: Courtenay



Damn yer havin a big day Denn, go buy a lotto ticket 'fore the corner store closes!

sunnydog




Posts

: 2014


Join date

: 2012-10-28


Age

: 52


Location

: Akimbo Alogo



If the lotto was a sure thing I might . w/ the tires and clutch fibers comin,I'll need as much $$$s as I can without gettin into food money.

Dennman




Posts

: 1412


Join date

: 2012-10-31


Age

: 72


Location

: Courtenay



---
Permissions in this forum:
You
cannot
reply to topics in this forum