Damn technology caught up to me AGAIN!! Had to update my phone recently since the old system was discontinued.Now This!!
Since Microsoft quit support for XP,it's getting slower and slower to start up the computer in the morning.More out of the ordinary popups and system instructions appearing too.
I'm a wee bit askeered of losing all my links ,info & login passwords if I download the later Operatin system.I don't like the way the newer one looks like a GD smart phone.
I've been offered a couple towers w/ at least windows 7 on it.Think i'll use the better one to put Windows 8.1 on and slowly transfer all my "must have" info over to it. 

So If I disappear from cyberspace ,that's where i'll be.

OH!!! And in the shop reassemblin the Weerier.

Dennman




Posts

: 1412


Join date

: 2012-10-31


Age

: 72


Location

: Courtenay



Don't worry Dennis there are more then Just a few of us in the -end over generation
And I might be just a little jealous of your new heads
Dave

Big Dave




Posts

: 613


Join date

: 2012-11-06


Age

: 64


Location

: Osoyoos B C



Analog tech is what makes the Shovel beautiful, I think we need Shovel powered computers  

sunnydog




Posts

: 2014


Join date

: 2012-10-28


Age

: 52


Location

: Akimbo Alogo



Can't get on my usual E-mail ,U-tube,US Shovel and other sites without LOOOOONNNNNGGGGG attempts.To feckin long to do so until I can get updated with this or a new comp.,I'm gone.
More time now to split wood and cleanup the yard.
Ya'll take care out there!!

Dennman




Posts

: 1412


Join date

: 2012-10-31


Age

: 72


Location

: Courtenay



I'm back w/ a new-to-me compact HP comp.  It's the same outer physical look as my last one but more Ram and whatever else you rate these by.
New-to-me O/S. Not the latest but more to my visual taste than the latest ones. It's fast.
Still tryin  to find my way around it for getting my Fav. sites up and easily available.
Big plus is not havin to ignore the vids and links that you MOFOs post. They work for me now. Gotta figure how to get my pics copied off the old comp. to disc so I can get them on this one.So far the only pics that I have are of the Weerier in her current form and this one of my first rendezvous w/ Hammer on our first ride together to Horsethief.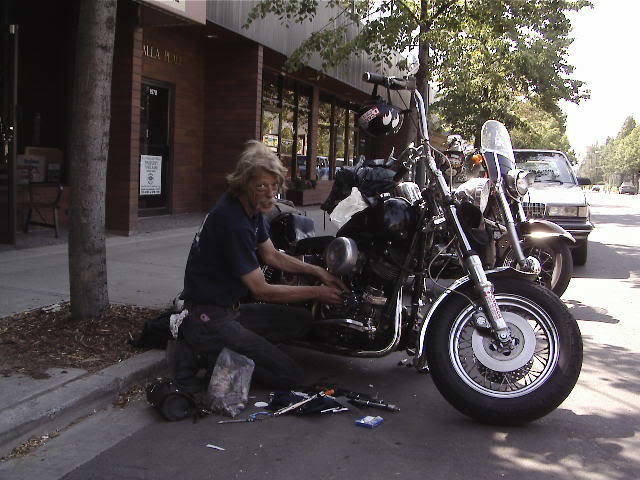 I rode around the corner of the pub in Merritt,saw him w/ lifter work in progress and thought, "Now we got a Ride!" Note cig pack and new gasket cut for his lifter block.

Dennman




Posts

: 1412


Join date

: 2012-10-31


Age

: 72


Location

: Courtenay



cool pic den,,,,aint nothing we cant do to keep em rollin eh!
Who is that young firebrand?
Btw...great to see ya posting again...

sunnydog




Posts

: 2014


Join date

: 2012-10-28


Age

: 52


Location

: Akimbo Alogo



---
Permissions in this forum:
You
cannot
reply to topics in this forum