Sad day on the farm today. I haven't wanted to share our sadness with the health probs our big buddy Conner has had in the last couple of months.They all came to an end today as Bren made the Vet call and had him sent to a peaceful sleep.Gonna miss the dufuss.He's become such a big part of our daily lives.
[img]
[/img]
Rest in Peace buddy,Conner.
Conner at his best.
[img]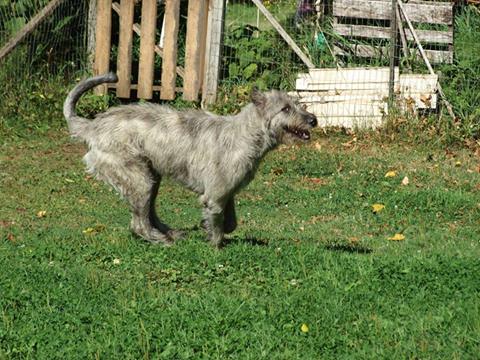 [/img]
Conner biggest joy and "His Job" was to meet "His Girl" Bren's grand daughter at the bus.Big smile Buddy!
'[img]
[/img]
Last edited by Dennman on Mon Jun 10, 2013 10:18 pm; edited 1 time in total

Dennman




Posts

: 1412


Join date

: 2012-10-31


Age

: 72


Location

: Courtenay



Dang sorry to hear Denn, what a lovely boy, Irish Wolfhound? Here's to you Conner, glad you had a great life with great people! How's the youngster doin?

sunnydog




Posts

: 2014


Join date

: 2012-10-28


Age

: 52


Location

: Akimbo Alogo



Sorry to hear about the dog I liked that monster
jmac

jmac




Posts

: 55


Join date

: 2013-01-02



Aww , sorry to hear hes gone man :-(

Shakerattlenroll




Posts

: 112


Join date

: 2012-11-07


Age

: 53


Location

: gp



Yes.Irish Wolfhound.Only 2 1/2 yrs. old.Poor fella went through bad diarhea bout then got diabetes incipitus (sp?).It's not sugar diabetes but water diabetes.A hormone deficiency causes the kidneys to just pass water.No urea in the urine.The acids build up in the joints .We got the hormone meds (to be administered through eye drops) and it seemed to work but then he went blind.Got confused and bumping into things.Took a nip at Bren.He'd bark softly at night when he had to piss.Happened every 1 1/2 hrs or so.That was runnin Bren down w/ her own problems needing rest.I'd get up at least 3 times a night w/ him.Had a skyline lead for him but he'd get lost out neer the end.
Poor fella had such a fantastic temperment. Lately he was obviously in pain but still had a healthy appetite and desire to go with us on the feeding chores at the barns.
Tears.i'm done.

Dennman




Posts

: 1412


Join date

: 2012-10-31


Age

: 72


Location

: Courtenay



I'm w ya, sorry to hear man...better days ahead.

sunnydog




Posts

: 2014


Join date

: 2012-10-28


Age

: 52


Location

: Akimbo Alogo



---
Permissions in this forum:
You
cannot
reply to topics in this forum