Sunny and myself just got back from West Koot. Toy Run . Twas a great ride ,over 300 bikes this year , a half a dozen shovels ,and a couple old flatheads . The weather was awesome and so was the scenery. I`ll bet ya Sunny will post some pictures later on.
Cheers!
The year was 1950, Larry and I decided to head over to Slo-Mo for a one day bike rally....luckily the dominion of British Columbiana had recently paved a new road over the pass between East and West Kootenay in the south Purcell mountain range. This was the new experimental route we decided to take.
Little did we know at the time, but we were actually pioneering a technique which was to be widely used by harley utilizers for generations to come, known as "trailering" ROFLMAO
So we loaded up the trailer with my nearly new '49 Flathead, and Larry's few yr old '42, using the latest offering from the Ford MoCo, the Shoebox.
Once we arrived in Slo-Mo, we were greeted by the sight of a couple more Ford products, strictly experimental....the Mercury Montclair concept car with moon roof, scheduled for release in a couple of years, and a completely space-age test vehicle some folks are calling the "Comet"
We rode down to Nelson to meet the rallyers, then back up the hill to Slo-Mo, stopping for lunch at the firehall
Once again the area abounded with concept vehicles....here was an example from the Polaris Indian company....strange how all the new manufacturers name their vehicles after stars and constellations, perhaps it's because the prices are "astronomical"....
Then I felt the hair stand up on the back of my neck when I recognized the preferred transport of our most recent mortal enemies....the Nazi's
Luckily my heart was lifted at the sight of a familiar old friend, the Iron Horse, manufactured right here in Rossland B.C., and featuring coil spring suspension this year....
All in all it was just a beautiful day, we saw a good extent of the West Kootenays, putting about 130 odd miles on the Flatheads....they both ran beautifully, especially considering this mountainous terrain....
In the true spirit of our wartime machines, we had one more assignment before getting back to the safety of the East Kootenay barracks.....secret recon suicide-door mission onto the well-known Monarch internment camp near Kitchener B.C., to sneak photos of the POW Mercury battalion kept prisoner by the evil Dr. Fitzy....Larry has some photos of the inmates we saw there. All I have is a picture of the getaway vehicle as viewed from the ramparts of Fitzy's prison gate...
Looks like a good time...thanx for the pics. Myself, Koot, Maye, Carmelle and Deb had our own ride, went up to Jaaffry, did the Bull River thing, met up with Clark Kent at the Jaffry pub. All in all a great day, no pics but a great ride with great people. Great weather too!



Posts

: 273


Join date

: 2012-10-31


Age

: 63


Location

: Mayberry



And heh, I like the look of that Indians engine. Cool!



Posts

: 273


Join date

: 2012-10-31


Age

: 63


Location

: Mayberry



It`s hard to tell but these are 1949-51 Mercury 4 dr. cars with suicide back doors. To me, these are the holy grail of hot rod cars. Sunny took us to the graveyard where these classics are resting until someone rescues them and brings em back to life.
I think they would look great in my yard but I have enough projects.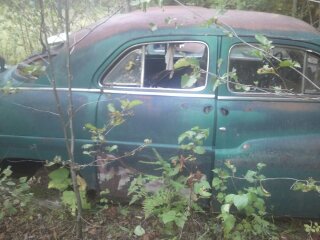 fuck man,, that would look good in my yard.. that's cool
Admin




Posts

: 856


Join date

: 2012-10-27


Location

: british columbia



kootenai wrote:fuck man,, that would look good in my yard.. that's cool
For sure Koot. That there is my all time favourite car ,a 49-51 led sled ,lowered and chopped and lotsa flames!!
---
Permissions in this forum:
You
cannot
reply to topics in this forum